Roberta Lannes grew up in North Hollywood, Tarzana and Encino, California, the eldest of three children (she and her brother were adopted). Her father, Harold Paul, did financial management for performing artist's production companies and for individual actors. Charlotte, a former club singer in the 1930 and 40's, was a stay-at-home mom.
From the age of three, Roberta loved drawing, painting and creating things.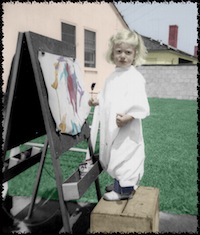 She crafted stage coaches out of cardboard boxes and designed supplementary clothing for her paper dolls in crayon and watercolors. She took dance lessons from age four until thirteen years of age. Along with an artistic side, she was an avid reader. When she was six, she announced she wanted to be a foreign correspondent, to travel and write stories. Her mother gave her a small lined notebook that she began filling with stories about her ten-toed cat (it actually had seven toes on both forefeet, but even then she was prone to write of the fantastic), cars that flew, and her talking parakeet. Her mother would take her along to a shopping center where she dropped her off in the book department where she knew Roberta would remain until she picked her up hours later. During these outings, Roberta discovered the books of cartoonist
Charles Addams
, relating to his sardonic humor and macabre drawings in ways she couldn't then understand. From Addams and various cartoonists and humorists in
MAD magazine
, and later the humor of
Gahan Wilson
, Roberta's quirky world view took shape.


In school, her first grade teacher brought her books like
Freddy and the Men From Mars
and
Freddy and the Space Ship
by
Walter R. Brooks
which whet her appetite for science fiction, and by third grade, her teacher Mrs. Broslow introduced her to Jules Verne and H.G. Wells. Hooked by science fiction and fantasy, coupled with her father's introduction of Shakespeare, Dostoevski, Dickens, Twain, and Poe into the mix, Roberta began writing in bigger lined notebooks. She wrote her first "novel" (14 pages) at ten which she shared with her fifth grade teacher. Immediately, she was put into sixth grade, providing her with another supportive teacher, Mr. Levy. Throughout her years in school, she was most fortunate to have tremendous validation and guidance for her artistic endeavors.
As a high school senior, Roberta Lannes sold her first story, "Lorraine" to Stone River Review . It was 1966. Her high school creative writing teacher, Marjorie Bruce, encouraged her students to write towards publishing, as well as to find their personal voice. Her story was sent out to a number of literary reviews by Mrs. Bruce. To both their surprise and delight, the story was published. Roberta believes that without Mrs. Bruce and all her teacher's belief in her, she might not have become an author or artist. She learned that the power of a good teacher is sometimes more valuable than a parent in shaping a person's dreams, which inspired Roberta not only to write, but to go on to teach.

Her first years teaching were so stressful that she stopped writing fiction and took up standup comedy to allay the tension of her workdays. She performed periodically at
The Comedy Store
in Westwood, CA, and wrote jokes for comedians from 1972-1974. Eventually, she found having a captive audience in her classroom preferable to the grind of late nights and the painful experience of 'bombing' on stage, and went on to teach journalism, photography, crafts, fine art and yearbook courses with humor.
Roberta returned to writing fiction in 1983 when she began taking writing courses at
UCLA's Extension program
. The first two years, her professors were award-winning published authors in the literary field. She was encouraged by the accolades she received. All the while, her professors remarked on the "darkness", "pathos" and "speculative" nature of her work. One professor suggested she take one of the genre courses available. She enrolled in the class On Horror Writing with master short story author
Dennis Etchison
. The course alternated writing sessions with guest speakers such as
Ray Bradbury
,
William F. Nolan
,
George Clayton Johnson
, and
Clive Barker
, where students were treated to inspirational lectures and stimulating conversations.

So inspiring were these classes, she returned for a second session. For an assignment, she wrote a horror story about what was, at the time, a taboo subject, the sexual abuse of children. Etchison was so impressed, he took "Goodbye, Dark Love" for his award winning anthology
Cutting Edge
. Dennis Etchison became her mentor, and with his guidance and enormous circle of friends in the publishing world, she was able to meet and establish relationships with authors, publishers and editors, two of whom have purchased the majority of her stories so far, and have become her most supportive editors and friends--American Ellen Datlow, and Brit, Stephen Jones.
Because of her growing success in the horror genre, she was approached by Silver Salamander Press in 1995 to publish a collection of her short stories. Feeling flattered and eager to see her own collection in print, she naively ventured into the sometimes murky waters of limited edition presses. John Pelan, a fan and publisher/writer, "edited" the collection which can still be found in secondhand bookstores, via Amazon.com, etc., though out of print. While the collection found success at the time, and there are stories Roberta is still proud of in the collection, she remains tepid about the experience of writing to please an editor whose tastes and goals pushed her to compromise her values for what constitutes good fiction. Because of poor editing, the project left her disappointed and very humbled. Lesson learned.

Since then, her work has been published in
Year's Best Fantasy and Horror
and
Best New Horror
, showcasing work of which she can say she is proud.
Readers who meet Lannes after reading her work are surprised to find a personable 'Vanilla' person, not the twisted, demented soul of her characters. When asked how such a 'nice person' could write such dark and disturbing fiction, Lannes has said, "I'm fascinated by things that are not in my reality and I believe others are fascinated, too. I don't want to live in the dark realms, in futuristic sci fi worlds, but I enjoy visiting from the comfort of my armchair, and I hope many readers do as well.

"I write from my research, meetings with some of the most discomforting, creepy people, and those who treat them. In understanding these people, their needs and perceptions and how they got there, they become my characters. I give them a voice in the same way an actor might portray a role. For me personally, at the end of the day, I want to come home to my wonderful husband, have good times with my friends, and pursue the creative arts that nurture and inspire me. To the reader, I might seem an enigma, but knowing so many horror authors who are some of the funniest, warmest, and sanest individuals, I know it simple that we're just blessed with active imaginations."
She continues to publish in the sci fi, dark fantasy and horror genres, as well as mystery stories, poetry and articles. She also has a successful fine art and design business through
Markworks
with her husband and their shared web services company, and doing CD and book covers, iPhone app splash screens, web page design, and
publishes and sells her photography and digital art
. See
her art site
.
Though she's lived in Kailua, Oahu HI, Makawao, Maui HI and New York City, she now lives in the suburbs of Los Angeles, California, twenty-five miles from where she grew up. She's married to British poet/journalist/classical music composer, critic and retired software engineer at the
J. Paul Getty Trust
, Mark Sealey.